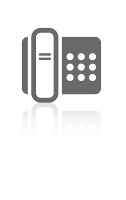 Fractel offers Toll Free origination in 50 US states, Canada, and all extended 1+ LATAs (Puerto Rico, Guam, etc.). Our least cost routing and carrier diversity provides virtually unlimited capacity and ensures that our rates are always competitive, our quality is without peer and our routing is fully redundant. Fractel is a RespOrg and our team will be happy to help you search for a great vanity number or transfer existing numbers. We also have access to numbers in exhausted exchanges such as 800 and 866.
Highlights
G.711 & G.729
T.38 Fax
CNAM dip optional
Reliable DTMF (Inband & RFC2833)
6/6 Billing
Searchable real-time CDRs
Redundant routing
Pay phone and region blocking
Time of day routing
Automatic Failover
DNIS rewrite
Easy management
Tell us more about what you need, and we'll provide a FREE test account!